A special shout out to my amazing friend, Ted, for sharing this clip with me. It's a very powerful, albeit comedic, look on how we often ignore both the science and solutions staring right in front of us. It's an unsubtle reminder of the importance to hold on to what's awesome about the past, while being innovative in determining solutions for the future.
Weekly, if not daily, I hear people discuss their struggle between allowing kids more movement so they can get the wiggles out and but we have so much to cover in such a short amount of time. There is a true sense of fear that less (sitting) could never be more (learning). Yet again, the science surrounding the diverse benefits of physical activity are ignored. I spoke with an elementary physical education teacher in a wealthy suburb of Chicago last month who told me his school is a 2:1 school. Unfortunately, it's not what you think. For every child in the school, there are two tablets.
Yep.
Two.
Per Child.
These same students attend physical education two-three days / week.
WTH?
What kind of messages are we sending when each student has two pieces of technology at ages when it's recommended by physicians that they have strong limits related to screen time?
You don't have to read Richard Louv's books, although I strongly encourage you to do so, to acknowledge there is a clear disconnect with today's society and nature - and, that this is not a good thing. I would never stigmatize someone who needs medication to control mental health problems. Period. I am very grateful for modern medicine to help offset many conditions. I also understand the research which states physical activity is the number one preventative care related to anxiety, stress, and depression.
To be clear on what I am not saying:
I am not saying that all mental health conditions are controllable solely through with physical activity. I am saying that many youth are diagnosed with these conditions and then treated with medication while living a sedentary life. To those of you who care more about economics than kids' health. 1. We probably wouldn't be good friends and 2. This isn't a cost effective way to handle some preventative mental health issues. 
I am not saying that every classroom should only exist in the outdoors.
I am not saying never give a child technology to support his/her learning.
I am asking for a little common sense and a happy medium. As in, a little less of this...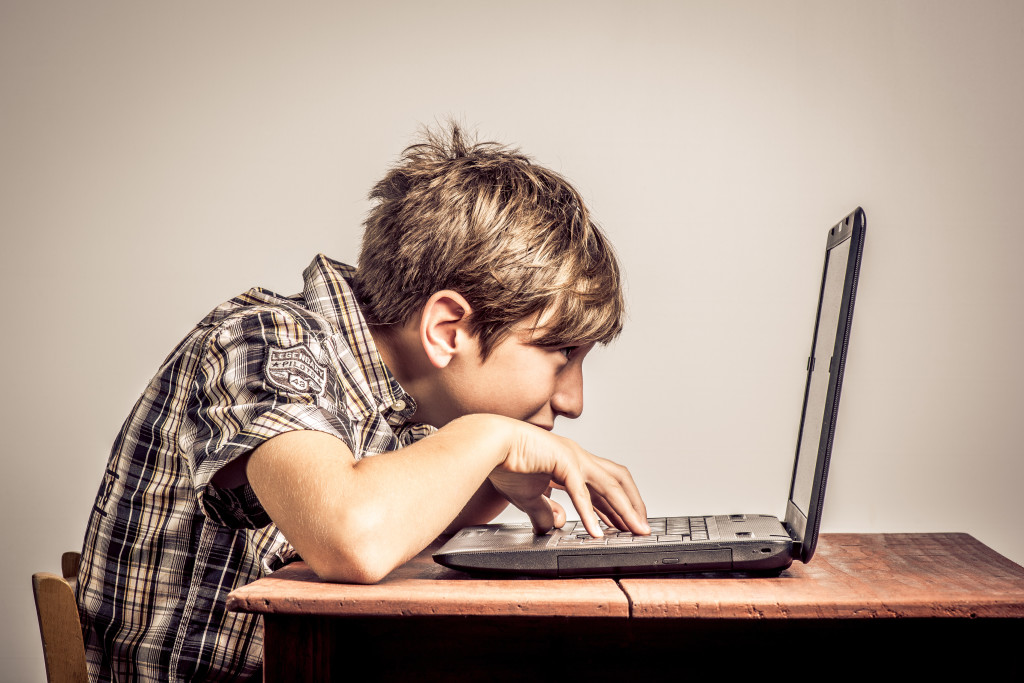 Yesterday, I pleaded with you to help take personal and social responsibility to fix a society filled with sedentary norms. In the spirit of that, here are some suggestions for helping our youth fall connect with nature. 
Parents:
Work with your PTO and school to find more ways to connect your child's learning to the outdoors. 
Work with your local elected officials to prioritize active transportation. I am actually in the process of doing this near my house so that my kids will be able to ride their bikes to school. A crosswalk with flashing light is needed a busy road so that the many kids in our neighborhood will have a safe route to school via two wheels.
Resist the temptation to be too eager when it comes to travel or rep sports and sport specialization at a young age. At a meeting a week ago at Stanford I heard world class athletic therapists discuss the negative impacts of athletes spending the majority of their childhood in a car driving to a sport, then going 100 miles an hour, and then driving home. They called it a 0-100 lifestyle, and their research shows it leads to overuse injuries and low levels of functional mobility. 
On the flip side, make it a priority to allow your children to move, period. You are the parent. So, parent. The American Academy of Pediatrics reminds us that screen time under the age of two should not exist, and it's necessary to set careful limits for pre-schoolers and during elementary years.
Realize there is no bad weather (generally speaking, of course), but there is bad clothing. Set up swap and shops at schools or community centers to pass on proper equipment to keep your cherubs comfortable, and to allow the outdoors to stand a chance. 
Teachers:
Acknowledge that physical literacy development must occur in diverse settings (land, snow, ice, water). Last time I checked, most of these didn't exist within four walls. 
Work with physical education teachers and curriculum coordinators on understanding what the heck physical literacy even is, and find ways to support the whole child in your classes. A few key websites to get to started: PHE Canada, Active for Life, and Canadian Sport 4 Life. These resources are also great for parents and administrators!
Find ways for your students to learn experientially and in a natural environment.
If you teach physical education, ask yourself if you are always inside a gym and, if so, why? 
Administrators:
Resist the temptation to invest in every high tech product on the market, while cutting budgets for field trips that provide experience in outdoor settings.  With the disparity of wealth in this country, many students haven't ever even been in nature, exposed to nature so how can they increase their natural vocabulary and make basic associations. A computer is more expensive than a hybrid bicycle and will not last nearly as long. Make sure that each cutting edge piece of technology is purchased because it aids student learning and optimizes teachers' time, allowing for more time to explore nature and for students to connect face to face.
Keep in mind that employees of today's most successful companies collaborate face to face to determine the best applications for their creativity. Individuals need effective verbal and non-verbal communication skills, and these will not be honed optimally in front of a screen.
Of course tech belongs in schools and tech is wonderful. Advocating for more nature is not anti-tech, it's a call for common sense tech.
While on a hike last spring with my family, I pulled out my phone - which I keep on airplane mode when exploring - to snap a photo of my youngest. Hearing her grunt her way up the bank and cheer with joy at the top reminded me how a simple visit to the park can afford a pre-schooler a chance to learn, develop and feel empowered. 
A happy medium folks. That's all I am asking for.
How can you contribute?  Would love to hear action you're taking in the comments below!

Thanks for reading. Gotta go run!