I've received several direct messages over Twitter lately from people wondering why I haven't published many blogs lately. The truth is, in recent months, while balancing my family, work, and my training something(s) had to give. As much as I enjoy publishing blog posts, I knew the blog wasn't going anywhere and so I put my head down and focused on the work that was pressing (deadlines). 
On the Move Live Learn side, I completed a collaboration with the Vermont Agency of Education on a proficiency-based physical education project. I started a blog based on this incredible experience as it was professionally very rewarding and intense, and it finished with a bit of a summer camp kumbaya feel (in a wonderful way). Additionally, I recently served as the Lead Writer for a #WinningInLife youth development physical activity program for high school aged youth on behalf of Ms. Jackie Joyner-Kersee and her foundation (The Jackie Joyner-Kersee Foundation). If you teach physical education, coach youth sport, or work in the after school sector, I encourage you to follow both on Twitter and keep an eye out for when this program becomes available. On the family side, I kept up with the (many) daily duties required for raising two young children. It's been really cool to see their excitement around biking and roller blading this summer, along with the way we bond in the vegetable garden that is thriving with all the rain falling in Missouri. Finally, if we are connected via social media, you know that I have recently completed my first IRONMAN® in Coeur d'Alene, ID three weeks ago today.
I've been feeling a bit overwhelmed since the IRONMAN. I can't help but be grateful for the wonderful life I live. Women in many countries are unable to play sports, let alone train for and participate in an IRONMAN. Since much of my work involves offsetting social injustices in sports such as this, I am never short of material to inspire me to attain goals simply because I can. I think it's important that we help our students and athletes make these connections. While there remains so much work to offset injustices on behalf of marginalized youth related to health, we must never take advantage to the opportunities that some of us have. 
While the record high temperatures (above 107° F, and some recorded the feels like to be 112° F out on the bike course) were not part of my plan on race day, maintaining perspective and focusing on the positive were. Luckily for me, some perspective and a positive mindset paid off! I finished safely despite the insane temps and was even able to both run and smile through the run portion. For those of you who would like more details on the race, feel free to read the race report I shared with my local triathlon club, Swim Bike Run Triathlon Club. I wrote the race report in hopes that it might help anyone planning for an IRONMAN in the future since so many others helped me. Disclaimer: The race report is long and may bore you if you aren't interested in triathlons, etc. 
A large motivator for doing this race was to raise awareness and funds for a really wonderful non-profit, Unlimited Play. Unlimited Play builds playgrounds that are accessible and inclusive to all individuals. In doing so, individuals with disabilities are able to play alongside peers who happen not to have disabilities. Many veterans are traveling far distances to play with their children at Unlimited Play playgrounds because the surface accommodates their prosthetic limbs. As you can see, the playgrounds do so much for so many. It is my hope that everyone learns from Unlimited Play. In turn, infrastructure and policy improvements made in years to come consider individuals with disabilities from the initial planning stages, and never - ever - as an add-on or a luxury item in a budget. As a society, we can do much more than we are currently doing to ensure that every child feels valued, regardless of any particular needs she/he might have. If your school and/or community are considering a new playground, I encourage you to reach out to Unlimited Play! I'm proud to report that with donations via Crowdrise as well as from a local Lululemon's community fund, I raised over $3,000. Whoop Whoop! 
In the coming weeks, I hope to write more about the proficiency-based project that occurred in Vermont as well as share a wonderful school-based bike program in place at a Vermont school. That said, a few very exciting projects recently showed up in my inbox so the blog may very well have to be patient once again.
Thanks for all your support throughout the IRONMAN. IRONMAN'S slogan, Anything is Possible, inspires me perhaps more now than ever before. Anything is possible if we all work together. In addition to more inclusive spaces, we can improve (if we haven't already) the way we assign grades in physical education so they actually mean something and can be used to foster intrinsic motivation in our students. We can change current practices of saying inclusive playgrounds are too expensive, and raise the bar for how we create recreation spaces and facilities to consider all citizens. We can ensure that youth in poverty have opportunities to participate in sports, as well as those youth who might be born with one leg. Anything is Possible if we just commit to putting one foot in front of the other to make it happen.
A physically literate person, remember, is active to benefit self, others, and her/his community. So, what are we going to do next? Let me know so I can properly support you! In doing so, we might all feel as happy as I did crossing the dang finish line in Coeur d'Alene! Don't forget...Anything is Possible.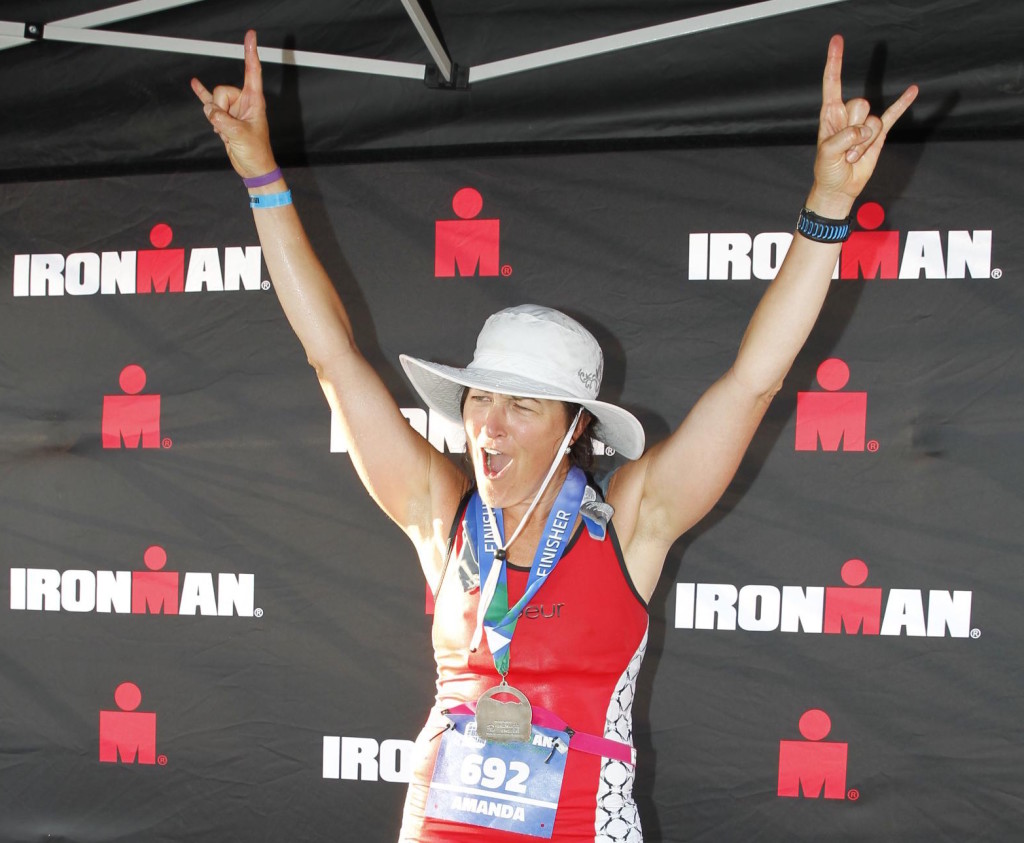 This hat saved me, as did the towel around my neck. 
Here are a few more images captured during Ironman Coeur d'Alene!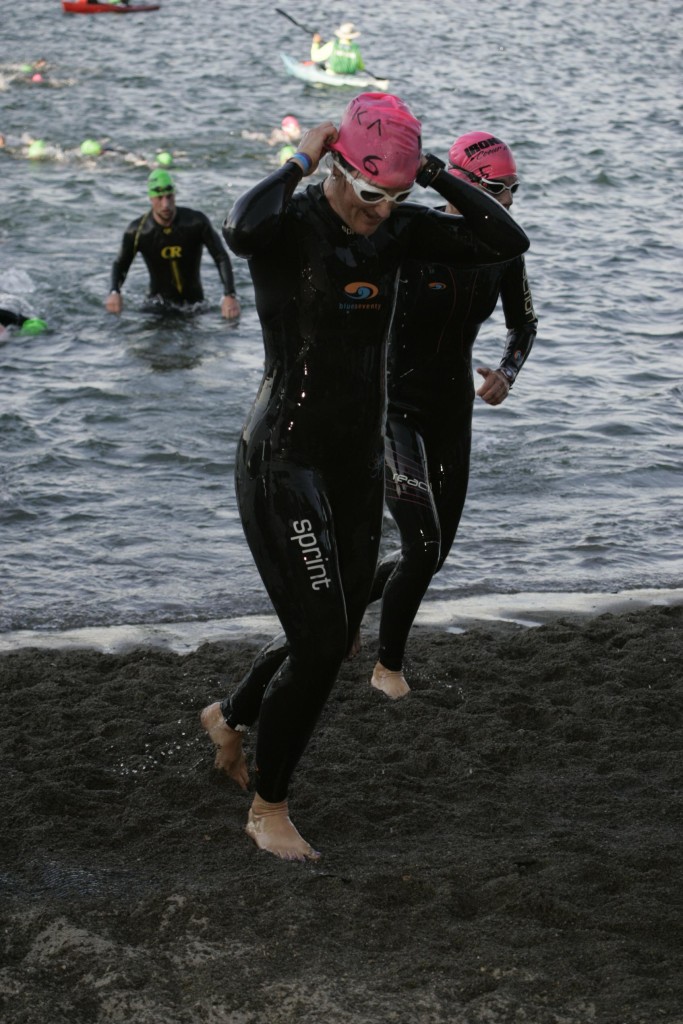 The swim is an interesting event! There is lots of contact out there, but everyone becomes nice as soon as they exit the water.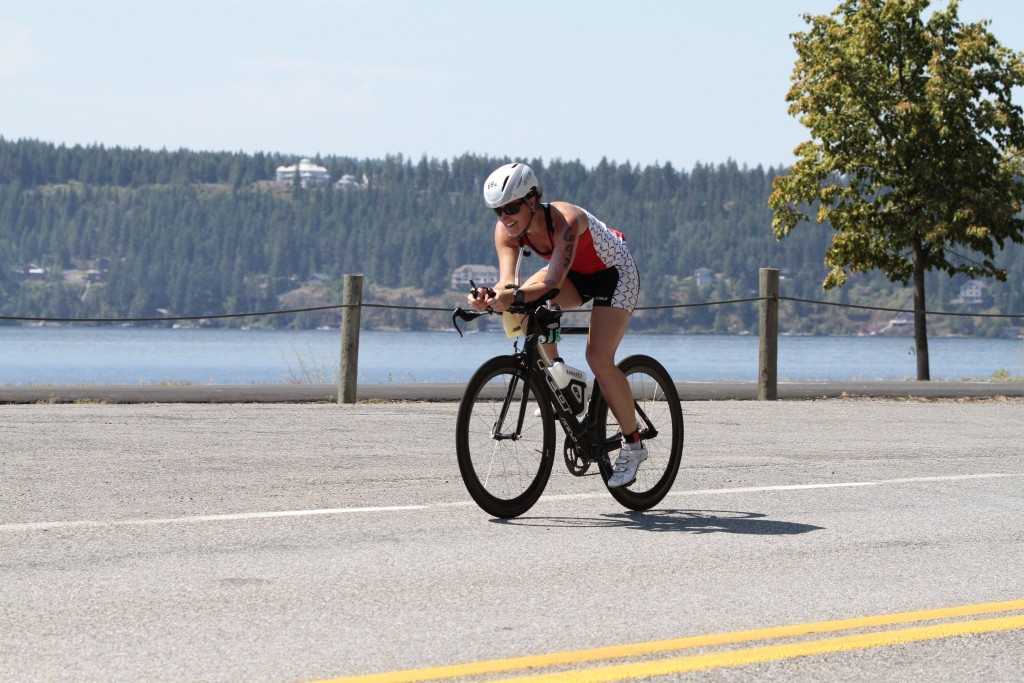 Coeur d'Alene is simply beautiful.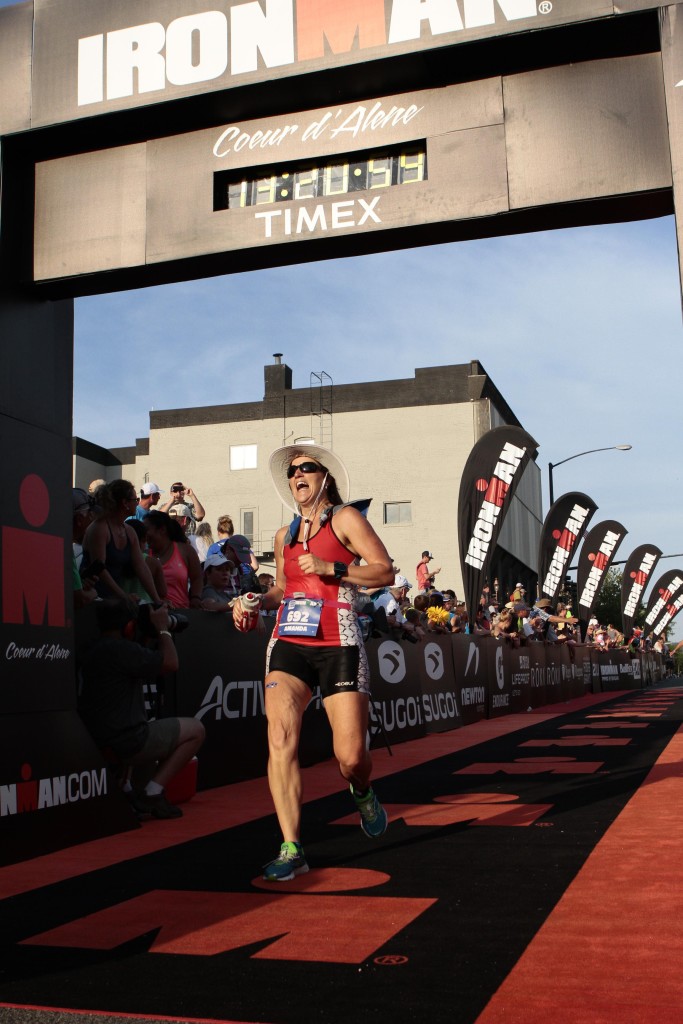 Chip time: 13:16
I'm a happy camper in this one!